We're Getting Mutants in the MCU - The Loop
Play Sound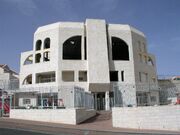 כאן הדף של זית רענן בעברית Shul Web Site: [[http://zayitraanan.com/]]
Click here for the Zayit Raanan Schedule in Acrobat.(PDF)

[

]
Directions
[
]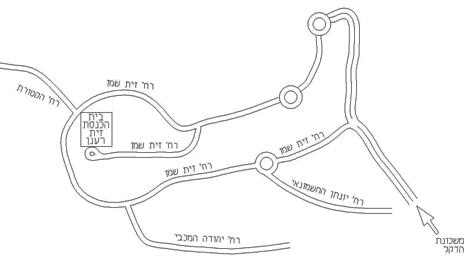 To get to Beit HaKnesset Zayit Raanan:
From the Dekel Shopping Center (from the southern entrance to Efrat), you continue north on Rechov David HaMelech. Continue with the road as it veers left. Shortly after that turn there will be a turn to a large road on the right. This is Rechov Rachel Imeinu, the road leading to Zayit. Turn right on to that road, going up the hill. Make a left onto Zeit Shemen street at the school building. Stay on that same street, following it constantly all the way around in a circle. Eventually you'll be making the first right turn into a cul de sac (dead end street) and park area surrounded by apartment buildings. The Beit Knesset is all the way at the end of that street.
Parking is available in front of the Beit Knesset.
Tefillot

[

]
Shacharit- Sunday-Friday
Mincha- Sunday-Thursday
Maariv- Sunday-Thursday
Erev Shabbat Mincha and Kabbalat Shabbat

7 minutes after Hadlakat Nerot

Shabbat Shacharit
Shabbat Mincha

Mincha Gedola - See the above schedule
Mincha Ketana - See the above schedule

Maariv Motzaei Shabbat - Tzeit HaKochavim
Shiurim

[

]
Every Shabbat, Immediately following Mincha Gedola - Tehillim for children.
Every Shabbat, about an hour before Minchah Ketana - Daf Yomi, delivered by Rav Dave Edelcreek, in the shul  
Every Shabbat, 45 minutes before Minchah Ketana - Writings of Rav Kook, delivered by Rav Baruch Efrati, in the shul
Every Shabbat, after Minchah Ketana - Seuda Shelishit with a shiur on various subjects by Rav Baruch Efrati, in the shul
Every Shabbat, 30 minutes before Tzeit Shabbat - Sefer Shmuel, delivered by Rav Avri Newlander, in the shul
Every weekday (S-Th), 06:00 AM - Daf Yomi, delivered by Rav Dave Edelcreek, in the Beit Midrash
Every weekday (S-Th), Immediately following 8 AM Shacharit - Kollel Yomi in English
Every weekday (S-Th), Immediately following 8 PM Maariv - Mishna Yomi
Every weekdat (S-Th), following 8 PM Ma'ariv until 10 PM. the shul is open and air conditioned for individual learning, chavrutot and chaburot, light refreshments are served
Tuesdays, Immediately following Mishna Yomi at 8:15 PM - Writings of Rav Kook, delivered by Rav Baruch Efrati
Wednesdays, Immediately following Mishna Yomi at 8:15 PM - 'Lamdanut Light', delivered by Rav Yehoshua Grunstein
Upcoming Events

[

]
Children's Activities

[

]
Children's Tefilla and Kiddush - every Shabbat at 9:45 in the pergola in the park
Contact Info

[

]
The Rav:
[
]
HaRav Yair Binshtok 054-524-7907
The Board:
[
]
Yechiel Fishman- Chairman - 993-3355
Nitsan Cohen- 993-4971
Eitan Ashman - 993-8436
Lavi Carmon - 9931579
Shmuel Schmell - 930-9697
Pinny Rotter - 054 4316116
Gabaim:
[
]
Pinny Rotter
Nitsan Cohen
Yechiel Fishman
Yoni Ben-David