http://www.efratemergencymedical.org/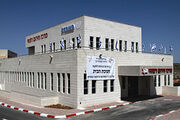 The Efrat Emergency Medical Center is located on Sderot David Hamelech (near Park Haasor) .
Please Call before coming.
Phone 02-993 2211
Hours

Sun-Thu 19:00 to 7:00
13:00 on Erev Shabbat/Chag continuously through 7:00 AM Sunday
The late night service (12:00 AM – 7:00 AM) is intended for emergency needs only!
---
If there are any questions, concerns, feedback and ideas regarding the care at the EEMC please call - 24 hrs a day:
Dr. Yitz Glick, Chairman and Medical Director 053-770 9797 or 02-993 3108
U.S. work 216-445-4956, home 216-269-6150
EfratEMC@gmail.com
IN EMERGENCIES always call Magen David Adom - 101

Emergencies include:
Prominent shortness of breath
Sudden chest pain
Loss of consciousness or altered mental state (new onset)
Possible airway obstruction (food or other foreign body)
Impending birth
Significant trauma (car accident, fall, pigua etc...)
Major burn
If in doubt call 101!!! 30-50 volunteers of Mada and Hatzalah are on call in Efrat and Gush Etzion 24 hrs a day