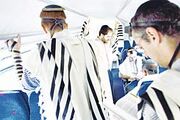 Efrat and Gush Etzion residents who commute to the Gush Dan/Sharon area for their livelihood, now have the option of arriving via Bus 77 (Note: the 77 bus is currently not in operation! Contact the Moetzet Gush Etzion to voice your complaint as such!) and train.
Along with some Bet Shemesh residents and others, over 80 men daven daily b'Tzibur, Sunday - Thursday mornings for shacharit, mincha in the summers, and maariv in the winters.
The Shacharit Minyan meets on the 6:08 am, 7:08 and 8:08 am trains leaving Bet Shemesh. All three of these minyanim have sifrei Torah for Monday, Thursday and Rosh Hodesh davening. The 'designated' car for the shacharit minyan is the last car - facing south towards Jerusalem.
Mincha minyanim during the summer months generally take place on the 16:55 train (leaving tel aviv hashalom) and on (until shkiya).
The Maariv minyanim meet during winter months on every Jerusalem-bound train after shkiya. The 'designated' car for the mincha / maariv minyanim is the last car - facing Tel Aviv and will usually begin immediately after leaving the Ramle station before arriving at Bet Shemesh (unless pressured for time due to oncoming shkiya).

Web Reference: Canadian Jewish News
              YouTube Interview

Community content is available under
CC-BY-SA
unless otherwise noted.